Saturday, 9 January, former director Pierre Nijsen officially opened the Nijsen's new industrial halls in Veulen, in the Dutch Province of Limburg. At the same time as it put these two new halls into use, Nijsen changed its company name from Nijsen-Granico to Nijsen, with newly designed logo. The concise company name and distinctive philosophy are reflected on the new website: www.nijsen.co. This expansion ensures that Nijsen can respond even better to growing demand from the market. With the coronavirus situation, the opening was celebrated in a small circle; but the impact of all the changes is significant.
Food-for-Feed-for-Food circular production specialist continues growth

We are hearing circular economy, circular agriculture and short chains being mentioned very often as solutions for achieving today's climate goals. Of course, this is easily put in writing and even easier said, but it is complex to achieve. After all, it would be difficult to make whole eggs from an omelette. Yet this is precisely what Nijsen, located in Veulen, near Venray, is doing.
As a circular production specialist, Nijsen is an essential ink between livestock farming, the food sector and the food industry. The result of the company's efforts is a substantial reduction of the carbon footprint through using 100% circular animal feed, e.g. 50% lower for pork production. Nobody can fail to notice Nijsen's unbridled growth.
Unique
What makes Nijsen so unique? Firstly the raw materials used, and secondly the short chains. At first glance, Nijsen's typical tower silos bring to mind a regular animal feed company. But an observant visitor will quickly notice the extra production facilities. Nijsen processes almost all conceivable residual and side streams from the food industry.
These include products such as bread, pasta, pastry, chocolate, sauces, sweets, etc. Nijsen uses these to make highly nutritious and the most sustainable possible animal feed for pigs and chickens (Kipster).
The combination of sustainability and highly nutritious feed has a visible effect. Pigs need less feed to grow. Kipster chickens lay very well. Compared to conventional animal feed, the carbon footprint of the meat and eggs is significantly lower. For example, 62% less land is needed for the production of circular pig feed; 62%less greenhouse gases are released and the CO2 emissions per kilogram of chicken or pork are between 35% and 53% lower. Collaboration in short chains is essential for delivering this all the way to the shelves in stores.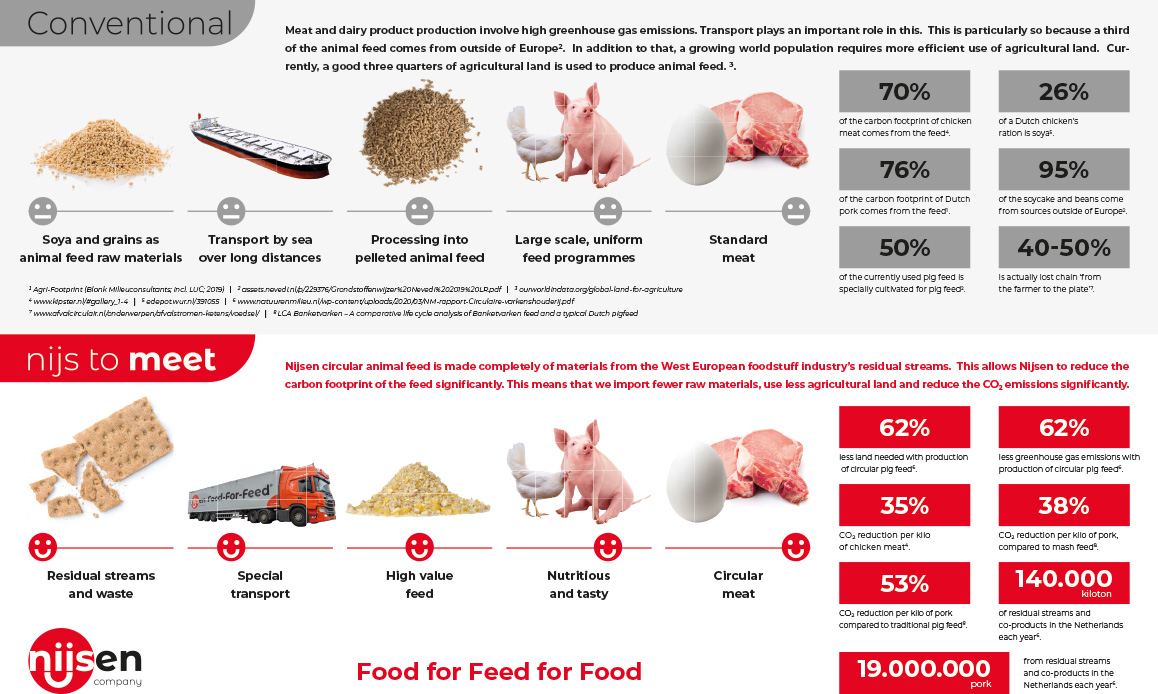 Nijsen's area of operations extends much further than its traditional customers, such as pig farmers. The Nijsen concept actually means broad cooperation and short chains. This means cooperation based on changed convictions, different structures and involving other parties with different roles, all based on a common goal, i.e. to get food from circular production onto the consumer's plate.
The decision to start processing residual and side streams from the food industry more than 30 years ago has really paid off. Nijsen is growing. And that made it necessary to significantly expand production facilities and capacity. This is especially important for developing even more circular applications.
Food for Feed for Food
The company's growth makes CEO John Geurts very proud: 'We turn residual flows from the food industry into food through our own short chains – Food for Feed for Food. In a society in which consumers increasingly pay attention to the production method and origin of food, Nijsen is meeting a rapidly growing need Nijsen feels really at home working in a cycle in which we do business with food manufacturers, livestock farmers, chain partners, catering and retail companies and NGOs on a daily basis. '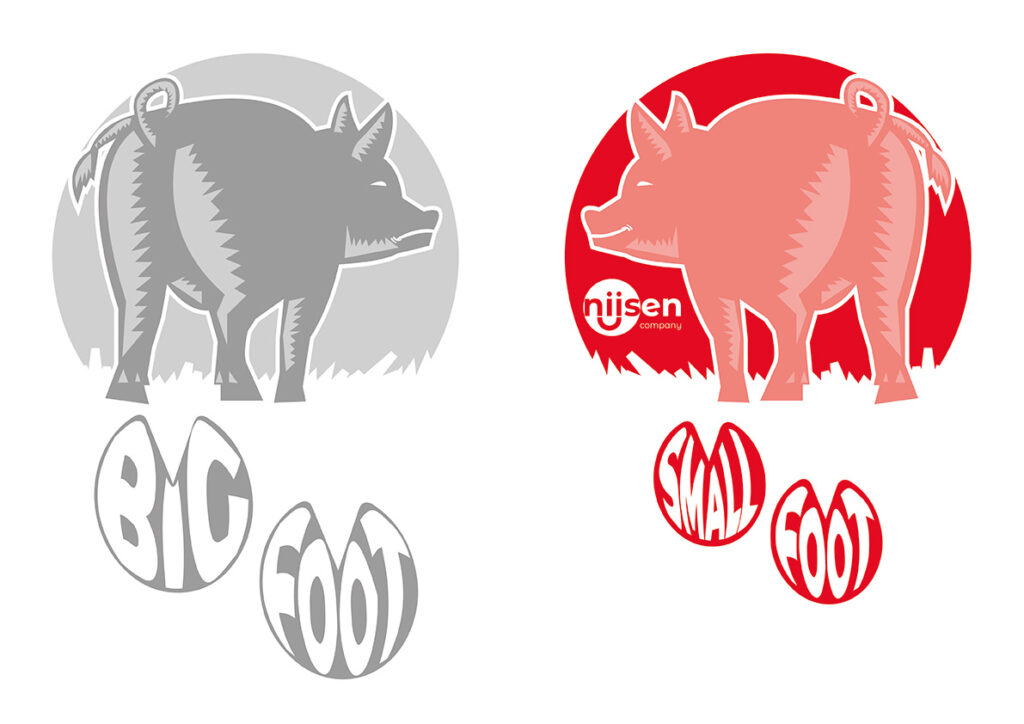 The cycle
'The cycle is complete', John Geurts continues enthusiastically, 'We are not only the most circular animal feed company in the Netherlands, but perhaps in the rest of the world too. The new facilities are helping us to maintain this position and offer our services to an increasing number of parties in the chain. We are ready for the future.'
More information
Nijsen company
John Geurts
(06) 15 01 16 86
j.geurts@nijsen.co